Learn how Spic and Span puts quality products first.
---
Here, you'll find information on all our premium deli meats, extensive meat department, catering options, and general store info.
General
Located in the heart of Southport, Spic and Span has been a centerpiece of the town for decades. Featuring everything from full Deli and Meat Departments and an extensive catering service to basic household and grocery items, we're ready to help you find whatever you need. We work hard to make sure we provide the best quality products for all our customers, and our staff are all true professionals at what they do.

Visit our Yelp! page to see what people are saying about our store!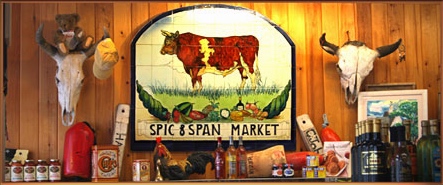 ---
Deli Dept.
We cook all our own meats daily - Angus Roast Beef, Jaindl Fresh Turkey breast, Cure 81 Baked Va. Ham - as well as preparing all of our salads from scratch on premise. We source our cold cuts and cheeses from Boarshead and Hummel Bros, and even cook our own bacon every morning!

"WE DON'T MAKE SANDWICHES - WE CREATE THEM"
---
Meat Dept.
Spic and Span Market has been a licensed Certified Angus Beef retailer since 1983, making us the oldest retailer in the Northeast! We have 3 full time butchers on staff at all times with over 100 years of cutting experience combined. We proudly sell Certified Angus Beef, White Marble Farms Pork, Bell and Evans Chicken, Jaindl Grand Champion Turkey, Straussberg Colorado Lamb, and Provimi Veal - all of which are the absolute finest products we can source.
---
Catering
For anything as simple as cold cut or sandwich platters, to as complicated as Roasted Tenderloin or Poached Salmon, we can help cater events for groups of 2-200 people! Everything is served buffet style. Stay out of the kitchen and enjoy your guests - let us take care of the cooking! Local delivery is also available.